PHOTOS: Rep. Anthony Weiner's Wife Huma Puts On A Brave Face Amid Sex Scandal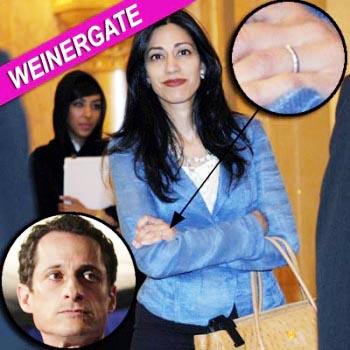 Hours after the bombshell news broke that she is pregnant, Huma Abedin -- the wife of disgraced New York Representative Anthony Weiner -- put on a brave face Thursday during a diplomatic mission in Abu Dhabi in the United Arab Emirates with her boss, Secretary of State Hillary Clinton.
Abedin -- who is reportedly ten weeks along – was noticeably still wearing her wedding ring, in spite of the growing sex scandal involving her husband.
Article continues below advertisement
Abedin is in the midst of a diplomatic trip with Secretary Clinton to the Middle east and Africa. She was photographed Thursday with Abu Dhabi's Crown Prince Sheikh Mohammed bin Zayed Al Nahyan during a meeting at the Emirates Palace Hotel.
Adding to the scandal: on Wednesday, a graphic photo – purportedly showing Weiner's genitals – hit the web.
Two days earlier, Weiner had confessed that he had in fact tweeted a lewd photo of himself to a college student in Seattle, Washington, despite initially denying it. He also admitted to having had "inappropriate" exchanges with six women, but he denied meeting any of the women.
Since the scandal broke, a growing number of both Republicans and Democrats have called for his resignation; so far, he is refusing to step down.
Weiner, 46, represents the Queens/Brooklyn areas of New York. He and Abedin,34, married eleven months ago with President Bill Clinton officiating at the wedding.
Huma Abedin -- The Woman Behind The Weiner
RELATED STORIES: