Meet The Parents -- Smiling Arnold Schwarzenegger Poses With Mildred Baena In 2001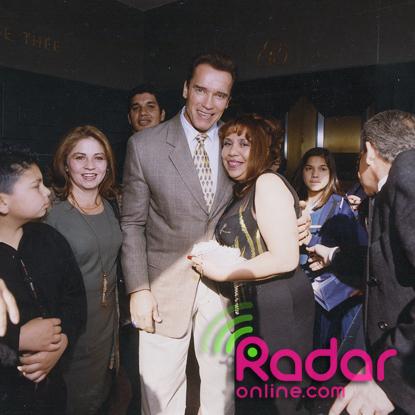 Say cheese!
RadarOnline.com has obtained this just-released photo from a 2001 party attended by Mildred Patricia Baena and Arnold Schwarzenegger, a decade before anyone had any inkling they were looking at a pair of parents.
The pic was snapped at a party to celebrate Baena's niece's Quinceañera, a coming-of-age party in Latino culture for girls turning 15.
As we previously reported, Schwarzenegger's former family housekeeper and his estranged wife, Maria Shriver, were pregnant at the same time with the former California governor's babies.
Article continues below advertisement
Baena worked for the A-list duo at their mansion in the posh Brentwood neighborhood of Los Angeles for 20 years, and was pregnant with the teen boy at the same time Maria was carrying her youngest child Christopher Sargent, 13 (born September 27, 1997).
Don't forget, it was RadarOnline.com and Star magazine's joint investigation that revealed Baena, 50, as the mother of the now 13-year-old son the 63-year-old Kindergarten Cop star fathered out-of-wedlock.