Scotty McCreery Never Thought He Would Win 'American Idol'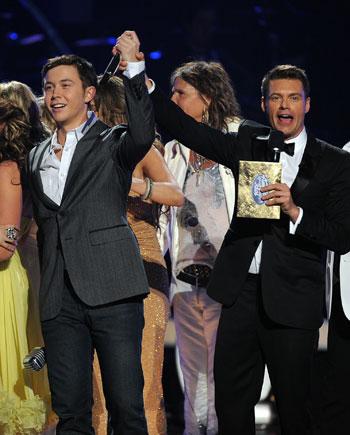 Scotty McCreery was always one of the clear frontrunners to win Season 10 of American Idol, but when asked if he knew that, the composed 17-year-old claimed: "It never crossed my mind," RadarOnline.com can report.
"I always just had confidence," McCreery told media via a conference call Thursday.
McCreery is the youngest person to ever win the Idol competition and says all the contestants had amazing talent, especially runner-up Lauren Alaina. "Lauren is something else. She's great!"
Article continues below advertisement
The North Carolina native said he felt the pressure mounting in the final moments of the competition but knew he had to keep bringing it. When
asked if he thought he'd be going home earlier in the competition, he modestly admitted: "Yes, especially this week."
VIDEO: Watch Scotty McCreery Compete in Clayton Idol
But Scotty can afford to relax now and enjoy his moment in the spotlight.
And, it looks like he's already started - after he won on Wednesday, Lauren planted a huge kiss on his cheek, stirring up romance rumors.
"There's no romance," Scotty said though, putting an end to the speculation. "It's a brother-sister thing. She told me she was going to kiss me before the show. She's great but it's a brother-sister relationship between us."
Not surprisingly, Scotty said he's grateful for Idol and that now it's time to get his career rolling.
"I'm ready to get my music out there," he said. "I think it's going to be a good album. My fans are out there and I'm ready to deliver."