Teens Scotty McCreery & Lauren Alaina To Face Off For American Idol Crown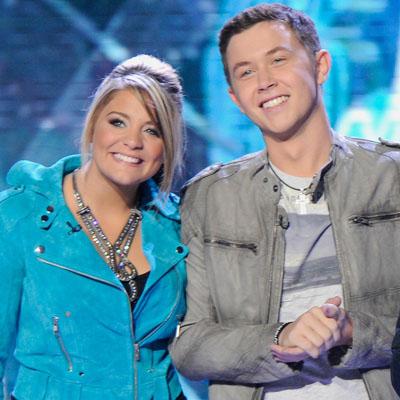 Bible Belt babies Scotty McCreery, 17, and Lauren Alaina, 16 will face off on Tuesday night's grand finale of American Idol, with the tenth season winner to be announced on Wednesday's season finale.
McCreery, a Garner, North Carolina native, enters the finals as the favorite, as he has not appeared in the bottom of vote-getters at all this season.
"Taking a break from rehearsal and watching a little baseball," McCreery, who counts baseball prodigy Stephen Strasburg as one of his 168,000-plus followers, tweeted Monday. "Yall ready for tomorrow night?"
Article continues below advertisement
Alaina, who calls Rossville, Georgia her hometown, had garnered comparisons to past Idol winner/current country superstar Carrie Underwood. If she wins, she'll be the show's youngest victor ever, as Jordin Sparks won 2007's competition at 17.
She tweeted to one of her 130,000-plus followers on Monday that making it to the finals "has always been a dream of mine and now it is a reality."
If Alaina does win, she would be the youngest winner ever on American Idol. Jordin Sparks currently holds the title for the youngest winner; she took the crown at the age of 16 in 2007.
The show's tenth season -- the first without Simon Cowell -- has been a memorable one for a few reasons: the high level of talent among the competitors (the finalists, James Durbin, Jacob Lusk, Pia Toscano and others), and the dynamite chemistry of the rebuilt panel of judges (Jennifer Lopez, Steven Tyler and Randy Jackson).
McCreery and Alaina will battle it out when American Idol continues Tuesday on Fox at 8/7c.