VIDEO: Oprah Winfrey Features No Guest For Very Last Show; Watch Her 'Exit Interview'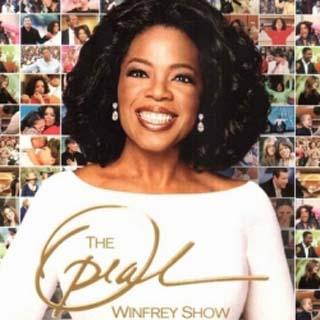 &
After a dazzling two-part finale spectacular that featured a slew of Hollywood's biggest names, for her very last show airing Wednesday, Oprah Winfrey booked arguably the biggest star in the world: Herself!
That's right -- Oprah's final show, taped Tuesday at her Harpo Studios in Chicago -- featured Winfrey, solo, reminiscing about her past and her celebrated talk show.
Article continues below advertisement
The audience was composed of fans who had never been to the show before, including Oprah's fourth grade teacher; her close friends Tyler Perry, Gayle King, and her long-time partner Stedman Graham were also in the audience.
Although there was a single chair sitting on the stage, Oprah stood for most of the hour as she talked about her life and career and showed clips from the show's 25-year history.
During the show, Oprah -- wearing a pink dress with a sash on the side -- said that the audience and the show had been the love of her life.
To wrap things up, Winfrey gave a goose bump-inducing monologue to end her quarter-century on the air.
"I've been asked many times during this farewell season: 'Is ending the show bittersweet?' Well, I say, all sweet, no bitter," Winfrey said. "And here's why: Many of us have been together for 25 years. We have hooted and hollered together, had our a-ha moments, we ugly-cried together and we did our gratitude journals.
Article continues below advertisement
"So I thank you all for your support and your trust in me.
She continued: "I thank you for sharing this yellow brick road of blessings. I thank you for tuning in everyday along with with your mothers, sisters and your daughters, your partners, gay and otherwise, your friends, and all the husbands who got coaxed into watching Oprah.
"I thank you for being as much of a sweet inspiration for me as I've tried to be for you. I won't say goodbye: I'll just say, until we meet again."
She said, "To God be the glory," and was serenaded by the sweet sounds of a song Paul Simon wrote especially for her -- 25 Years.
As she left the stage, she hugged Graham and audience members.
In her only exit interview after the taping, Winfrey, speaking to Chicago TV anchor Cheryl Burton, said divine intervention played a part in her equally-divine career.
Watch the video on RadarOnline.com
"I often say, 'Nobody but Jesus could have made this happen for me,'" the TV legend said.
Article continues below advertisement
Winfrey said she "was most naive in how things operated" when she began her career, recalling how she begged her old agent, in vain, to send her broadcasting reels to Good Morning America for a shot at national exposure.
She credited her longtime confidante Gayle King for instilling her with the confidence she needed, as she began her now-iconic talk show 25 years ago.
"Gayle's the only person who thought I could beat talk show innovator Phil Donahue."
She also credited her enduring success to relating to everyday folks, as she said her mission was "to tell the story of people like ourselves."
Winfrey -- who's re-locating to Southern California -- said she will most miss Chicago, the city she broadcasted from.
"I will miss the connection to a community that really embraced me in such a way that allowed this to become a national platform... it was these people and this audience that made it happen."
The final Oprah Winfrey Show aired at 9 am CT Wednesday in Oprah's hometown market of Chicago and will air in the afternoon in syndication on TV stations around the country.