Michael Lohan Wants A Real Life Confrontation with Frank Sorrentino Inside The Boxing Ring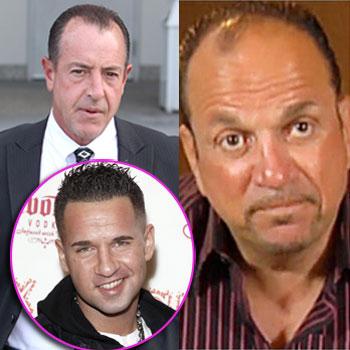 RadarOnline.com Staff Reporter
Michael Lohan wants to go toe-to-toe with Frank The Confrontation Sorrentino in the boxing ring because he hates the way he bad mouthed his famous son Mike The Situation Sorrentino.
Sorrentino Sr. will referee a match between Lohan and radio star Jeremy Loper on June 4, 2011, at the Ocean Manor Drive in Fort Lauderdale, Florida.
But it's the ref and not Lohan's opponent who might be on the end of some hard leather before the night is through.
Article continues below advertisement
Promoter Damon Feldman told RadarOnline.com: "Michael hates the way the guy went public about his son Mike The Situation from the Jersey Shore.
"He claims that he has always tried to protect his daughter Lindsay Lohan and he does not like the way Sorrentino Snr turned on his own boy.
"There could be fireworks at the boxing match and hopefully we will be able to arrange a bout between the two of them in the future so that they can settle their differences like men."
RadarOnline.com previously reported how the Jersey Shore star launched a lawsuit against his estranged father in connection with a series of online rants posted to a site called theconfrontationsite.com.
In the suit, filed in Florida, The Situation said he wants his father to stop discussing him publicly, as he's devaluing his lucrative business empire. He also claims he's entitled to a portion of all profits he's made as a result of using his fame.
Article continues below advertisement
The Sitch also names a second defendant in the suit, Robert M. Fletcher, and points to a detailed record of legal woes stemming from Fletcher's questionable business practices.
Michael Lohan pled not guilt today (Monday) to a domestic violence charge involving his ex-girlfriend Kate Major.
Lohan, 50, entered the plea through his attorney during his arraignment before Los Angeles Superior Court Judge Marsha Revel, the same judge who presided over several hearings involving his famous daughter.