Maria Shriver Is All Smiles Out To Dinner With Her Kids In Malibu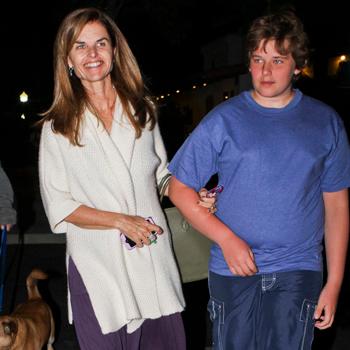 by Radar Staff
Maria Shriver couldn't have looked happier when we spotted her out to dinner Sunday night in Malibu.
California's former First Lady was all smiles as she went to Tra Di Noi restaurant with her kids Katherine, Christina and Christopher, plus a few friends and an always-present bodyguard.
Only 17-year-old Patrick was missing -- RadarOnline.com found the hip teen celebrating the holiday with his own friends.
Article continues below advertisement
As RadarOnline.com has been reporting, Shriver has retained high-profile divorce attorney Laura Wasser to represent her against estranged husband Arnold Schwarzenegger. A forensic analysis of his assets has already begun.
Schwarzenegger has admitted to fathering a child by his and Maria's former housekeeper, and only confessing the affair to his wife a few months ago.
Arnold's son by Mildred "Patty" Baena and his son Christopher, with Maria, will both turn 14 in September.