Exclusive
'Belligerent' Lindsay Lohan Caught In Nightclub Ruckus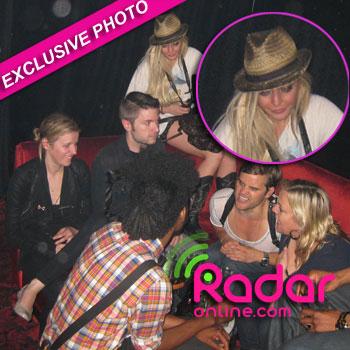 RadarOnline.com Executive Editor
Troubled starlet Lindsay Lohan allegedly grabbed the wrist of a woman who tried to take a picture of her about 2 a.m. Sunday in a Hollywood nightclub, RadarOnline.com has learned.
Then, someone in Lohan's entourage reportedly grabbed the Nikon point-and-shoot camera from the hands of the fan and dumped it into a bucket of ice used to chill booze bottles.
The camera's damaged, but RadarOnline has the exclusive photo that sparked the ruckus.
Article continues below advertisement
"We didn't press charges because we thought it was funny at first," said an eyewitness who asked not to be identified. He and three friends, including the owner of the camera, sat for an hour at a table next to Lohan's. "We all were drunk. But then we figured out when we got home that the camera was broken because water seeped in. The memory card, though, was still good."
The incident occurred at the new Paul & Andre Hollywood nightclub. In the photo Lohan, 24, who last week escaped serious time behind bars after pleading no contest to a theft, can be seen sitting on the back of the couch while her friends are partying. According to the source, so was Lohan!
"Lindsay appeared to be 'belligerently drunk,'" the source said. "She and her people were doing shots of something all night. She looked like she was falling all over the place. She was being stupid.
"When she grabbed my friend's wrist, another woman who was with Lindsay grabbed the camera. She kept saying 'I need that camera' over and over again. So the woman got it and sunk it into the ice buket."
Article continues below advertisement
The spywitness said there was no other incident.
"We were sorta leaving and we didn't want to cause any more trouble," he said.
Lohan could be flirting with disaster. On May 11, an exasperated judge in Los Angeles sentenced her to three years probation and psychological counseling. Another probation violation could land the star of Mean Girls in jail for months.
Said Lohan's new publicist, Steve Honig: "I don't have any knowledge of this alleged incident whatsoever."