VIDEO: Jeff Conaway's Last Interview - He Sings & Talks Oscar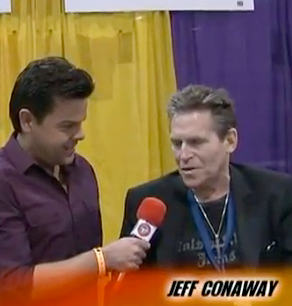 by RadarOnline.com Staff
Jeff Conaway gave what is believed to have been his last interview, and RadarOnline.com has it for you.
On April 29, Conaway was appearing at Anaheim Wizard World Comic Con, where he was interviewed by What's Up Orange County, a popular local access cable show.
He seemed in fine form, singing songs from Grease, talking about his past successes – 90 films, five Broadway shows and seven TV series – with What's Up Orange County producer and host Scott Stewart. He also revealed he was about to make a film called Orson's Last Dance, which he believed would finally win him an Academy Award.
Article continues below advertisement
Conaway introduced his girlfriend Vicki Lizzi, and spoke about how much in love they were.
Off-camera, he told Stewart that he was not well. "He told me he'd just had surgery and was in a lot of pain," Stewart tells RadarOnline.com exclusively.
Days later, the actor and Lizzi were requesting restraining orders against each other, and on May 11, Conaway was discovered unconscious in his home.
RadarOnline.com broke the sad news on Friday that Conaway had died. He was 60.