Hollywood Sign Rises Over Florida Landfill – For Tom Cruise Flick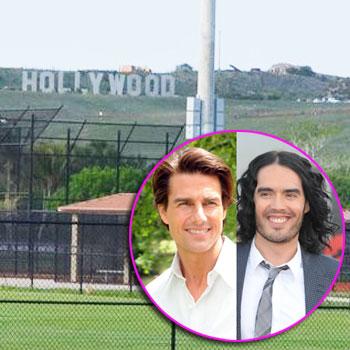 by RadarOnline.com Staff
Notice anything different with the Hollywood sign?
It's not in Hollywood!
The famous landmark has been replicated atop an old landfill in South Florida as prop for a new movie Rock of Ages, starring Tom Cruise and Russell Brand.
The adaptation of the Broadway show, which also features Alec Baldwin, Mary J. Blige and Catherine Zeta-Jones, started production in the area of Fort Lauderdale this month.
Article continues below advertisement
But since some scenes are supposed to take place in Tinseltown, producers did the next best thing to flying the cast and crew back: They made SoFla look like SoCal!
The sign currently stands in the Monarch Hill Renewable Energy Park, between Coconut Creek and Deerfield Beach.
The place used to go by the less ambitious name of Mount Trashmore.
And, according to published reports, the landfill's owners plan on donating their movie-location fee to a scholarship fund at the local high school.