Exclusive
PHOTOS: Who Was In Las Vegas On Herpes Weekend?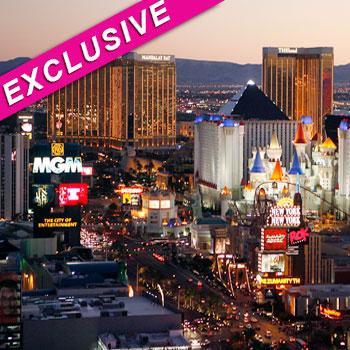 by RadarOnline.com Staff
What happens in Vegas didn't stay in Vegas this time around.
A lawsuit filed in Los Angeles this week against an unnamed celebrity who gave herpes to an unnamed person has sparked wild speculation on the identity of defendant.
This much is known about the alleged herpes-spreader: He's a rich man, an A-lister and an international celebrity, according to the lawsuit.
His victim's gender or job or hometown are not listed on the court papers.
Article continues below advertisement
It's alleged is that the two got together for a night of "prolonged" sex and drug use April 1, in the presidential suite of a hotel on the Las Vegas Strip. They discussed whether they had STDs. Both agreed they didn't, but obviously one lied.
So, just who was in Sin City on April Fools Day?
Hundreds of celebs! There was a film industry event, Cinema-Con. The Michael Jordan Celebrity Invitational golf tourney had plenty A-listers. And the Academy of Country Music Awards lured a who's who.
At Cinema-Con, headquartered at Caesars Palace: Ryan Reynolds, Russell Brand, Vin Diesel, Tyler Perry, Jack Black,Tim Allen, John Travolta and others.
With Michael Jordan at the golf tournament were actors Larry David, Chris Tucker and Jamie Foxx; model Gabriel Aubry; director Spike Lee; talk show host Maury Povich; NFL QB Drew Brees; hockey icons Wayne Gretsky and Mario Lemieux; and retired baseball stars Ken Griffey Jr., Greg Maddux, John Smoltz and Mike Piazza.