FIRST PHOTO: Glee Gal Dianna Agron Chops Her Hair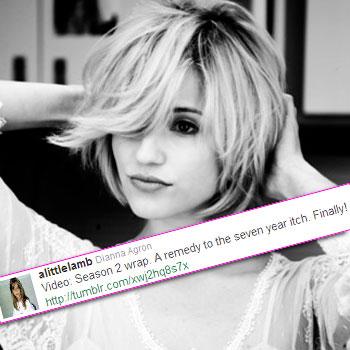 Radar Staff Reporter
&
Radar Staff Reporter
Glee star Dianna Agron had a seven year itch she just had to scratch!
Once season two of the hit Fox series wrapped, Agron wasted no time chopping her blonde locks, and RadarOnline.com has a photo.
Agron, 25, posted a video link on her Twitter account showing the dramatic haircut and then later posted the first photo, taken by celebrity photographer Tyler Shields.
Article continues below advertisement
"A remedy to the seven year itch," Agron tweeted. "Finally!"
Shields told Radar in an exclusive interview, "Dianna just wanted a new look and I wanted to document her getting it cut off. She was really pleased with it and I think she looks amazing with shorter hair.
"She got it done a couple of days ago after the latest season of Glee had finished shooting. She was pumped when she saw the final results and had no regrets about getting her long hair chopped off."