VIDEO: George Goes Gaga On GMA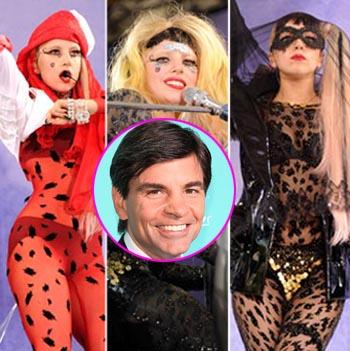 From the White House to the House of Gaga, George Stephanopoulos can do it all.
Along with his co-host Robin Roberts, the usually buttoned-up Stephanopoulos doned jeans and an open shirt on Friday to interview Lady Gaga, who kicked off Good Morning America's Summer Concert series with a show in Central Park.
Stephanopoulos -- former Pres. Bill Clinton's senior adviser-turned-ABC political correspondent-turned GMA host -- asked the New York-born beauty about how she's used her power and influence in the battle against bullying.
Article continues below advertisement
"You don't have to be the loser kid in high school to be bullied... bullying and being picked on comes in many different forms," the Paparazzi singer said. "If you're not being bullied, be someone that nurtures.
"And if there's someone in your class that doesn't have a lot of friends, be the one that sits in the cafeteria with them -- be the bigger person."
A harness-clad Gaga, wearing a headpiece and a white cape, made a grand entrance zip-lining onto the stage, as thousands of her "Little Monsters" waited for her, cheering.
Gaga, 25, then performed a spirited set that included her hit Bad Romance, along with newer tracks such as Judas, Edge of Glory and the title track from her new, top-selling album, Born This Way.
VIDEO & PHOTO: The Story Behind Lady Gaga's Red Vest
Watch the video on RadarOnline.com