Charlie Sheen Ready To Party Like It's 1999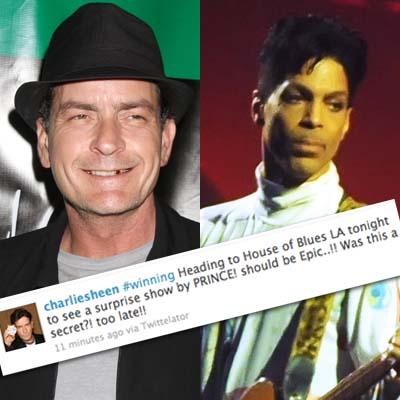 The King of Crazy is about to see the Prince.
Yes, Charlie Sheen -- or should we call him the actor formerly known as Charlie Harper? -- is set to paint the town red Wednesday, taking in a show from pop music legend Prince.
The former Two and a Half Men star tweeted: "#winning Heading to House of Blues LA tonight to see a surprise show by PRINCE! should be Epic..!! Was this a secret?! too late!!"
Article continues below advertisement
Sheen's kept a fairly low profile in recent weeks, since the jaw-dropping announcement that Ashton Kutcher would be replacing him on the top-rated CBS comedy. After taking a few jabs at his old bosses, the enigmatic actor put out good vibes to his former co-workers, and even his replacement.
He tweeted May 13: "#Winning Congrats to the cast and crew...CBS & WB..! My best to Kutcher!! The show must go on... You got the right guy! c."