Wow! Check Out The New Bristol Palin!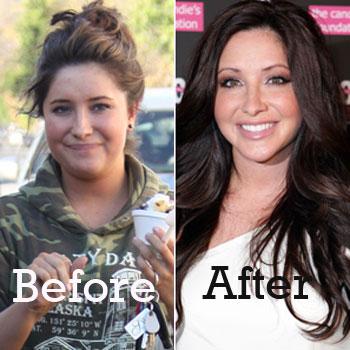 by RadarOnline.com Staff
She's never been accused of being two-faced, but Bristol Palin looked very different at a New York City charity event last night, prompting many to ask: 'What'd she do?'
The 20-year-old daughter of Tea Party leader Sarah Palin had a sexy style makeover on Dancing With The Stars last year. But now, she's undergone an even more extreme Hollywood transformation.
For one thing, Bristol looked remarkably slimmer at the Candies Foundation's Event to Prevent gala fund-raiser. Other changes: More chiseled cheekbones and a leaner chin with fake eye lashes, hair extensions and flawless make-up.
Article continues below advertisement
While there's no doubt that baby Tripp's single mom lost weight this year, New Jersey plastic surgeon Dr. Brian Glatt (who has not treated the star) thinks she could have gotten liposuction under her chin.
"She may have also had a chin implant to better define this area," he said. "Her lower lip appears much more full and it is likely she had injections of Juvederm (a popular filler) into her lower lip."