Jamie Oliver To Sarah Palin: 'You're A Froot Loop'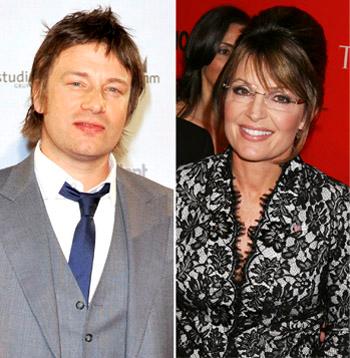 Jamie Oliver took on Sarah Palin, comparing the former governor to a heavily-sugared kids cereal, RadarOnline.com has learned.
Oliver is attending the South Beach Wine & Food Festival and on Saturday spoke with admiration about the efforts of Michelle Obama to change American eating habits, especially the diets of children.
The host of Jamie Oliver's Food Revolution minced no words in tackling former governor, former VP candidate, former reality TV star Palin for her criticism of the First Lady.
Article continues below advertisement
Palin has slammed the Obama administration's efforts to make school lunches healthier, saying that only parents not the government have the right to tell kids what to eat.
PHOTO: Naked Chef Poses With Baby Petal
"Clearly on this issue, she is a Froot Loop," Oliver said.
Oliver calls the nutritional needs of kids a "civil rights issues." He's shooting a new season of Food Revolution in Los Angeles.
RELATED STORIES: