PHOTOS: Can Do Couple! Brangelina Causes Frenzy At Cannes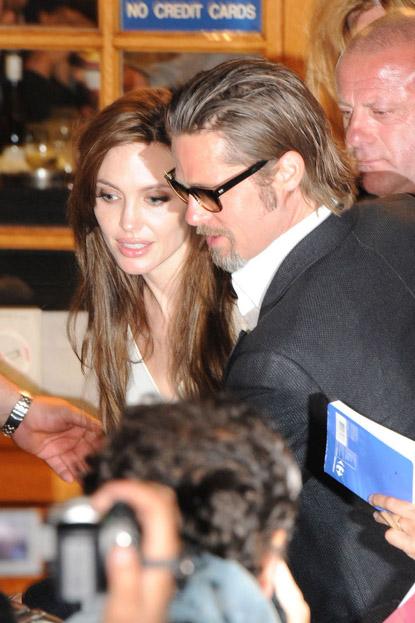 Brad Pitt and Angelina Jolie caused a fan frenzy as they left the posh restaurant Tetou following a romantic dinner in Cannes on Sunday.
The A-list couple are at the famous French film festival to promote Jolie 's new film, Kung Fu Panda 2, while Pitt's drama The Tree of Life premieres Monday.
Kung Fu Panda 2 has special meaning for the Oscar winning actress because the film has an adoption theme and because three of the six Jolie-Pitt children -- Maddox, Pax and Zahara -- are all adopted.
Article continues below advertisement
Jolie said: 'The words adoption, birth mothers and orphanages are happy words in our household, and we talk about those subjects all the time.'
Meanwhile, a new film being directed by Jolie has picked up a U.S. distributor.
Her Bosnian War film now titled, In the Land of Blood and Honey, will be released on December 23 by FilmDistrict, a subsidiary of GK Films.
GK Films founder Graham King announced the acquisition on Sunday at the Cannes Film Festival and said Jolie's directorial debut 'signals the arrival of a visceral and compelling storyteller'.