Angelina Jolie Still Has The Hots For Brad, Says He's 'A Real Man'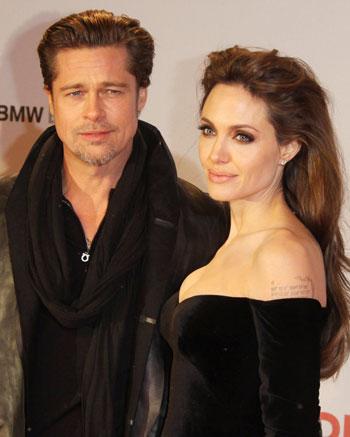 They've been together since 2005 and are the parents of six kids, but Angelina Jolie and Brad Pitt obviously still have the hots for each other.
'I am very lucky with Brad,' Angie said in an interview with The Telegraph. "He is a real gentleman, but he is also a real man's man"
Blushing just a bit about being so revealing, the Kung Fu Panda 2 star added, 'He's got the wonderful balance of being an extraordinary, great, loving father, a very, very intelligent man and physically he's a real man in all things that it means.
Article continues below advertisement
"I love being a woman. I love that I can have children," Angie added. "I love feeling soft, I love being with Brad, I love all the sensitivity and natural emotion."
In the wide-ranging chat, Angelina also spoke about the couple's decision to raise their kids all over the world, and how she and Brad arrange their work schedules. Angie only ever works away from home Monday through Friday, for instance. And she and Brad never are away on films at the same time.