Exclusive
O.C. Housewife Alexis Bellino 'We've Found Our New Dream Home'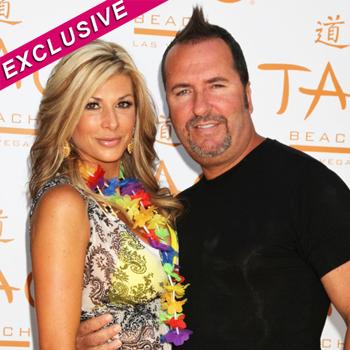 By RadarOnline.com Staff
After losing their Newport Beach minii-mansion to the real estate collapse, The Real Housewives of Orange County star Alexis Bellino and husband Jim are excited to be making a fresh start in a new house, and RadarOnline.com has all the exclusive details.
"We've found our dream home," Bellino, 34, told RadarOnline.com in an exclusive interview Saturday. "It's amazing. It has a huge long driveway, it has a backyard with all rock landscaping and a place to put a huge trampoline for the kids. It is one of those houses that I feel I will never grow out of," she explained.
Article continues below advertisement
"We don't have it yet we're going to get it - I'm a firm believer of if you think positive it will happen," said Bellino. "We're about two days away from knowing.
"We're going to be buying it, the kids are really excited about moving. Every move is stressful, but sometimes you just have to do it, you've got to move, especially when it's your dream home."
As RadarOnline.com previously reported, the reality couple bought their previous Newport Beach residence near the top of the real estate market, and put a fortune into renovating it. When one of Jim's several businesses went bankrupt and other financial pressures mounted, they decided to unload it. With real estate prices crashing, they battled their bank to renegotiate their mortgage, faced down foreclosure, and ultimately sold the place at a huge loss known as a "short sale."
EXCLUSIVE SNEAK PEEK PHOTOS: Alexis Bellino Clothing Line
RadarOnline.com caught up with Alexis and Jim at the Los Angeles Live Steamers Railroad Museum to celebrate their son James' fifth birthday, along with their two daughters.
" It has been a lot of fun, there's a whole variety of trains, we're seeing dinosaurs, we're eating cupcakes - it's a great time. James is a huge train fan,: Alexis told us.