Exclusive
THE WEEK IN PHOTOS: LiLo Shops, Denise Hits The Beach & Charlie Hits The Road!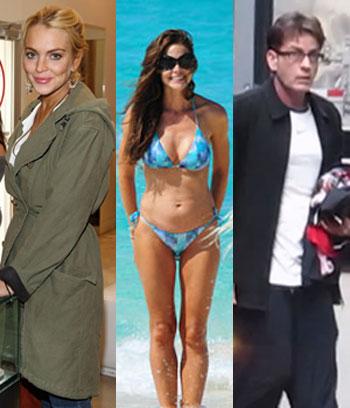 Rapper turned Law & Order: SVU star Ice-T and his eye-popping wife Coco celebrated her birthday at the famed Nicki Beach Club in New York Friday night with a fun-filled bash.
Article continues below advertisement
Denise Richards took her two daughters with Charlie Sheen -- Sam, 6, and Lola, 5 -- to the private and remote One & Only Ocean Club on Paradise Island in the Bahamas, as they're on Spring Break vacation from school.
Halle Berry took her adorable young daughter Nahla to the beach. Nahla has red carpet ready genetics from both sides, as her daddy is gorgeous Canadian model Gabriel Aubry, who had a brief fling with Kim Kardashian last year.
Article continues below advertisement
Snooki defeated Michelle McCool in her debut wrestling match at the WWE's Wrestlemania XXVII in Atlanta on Sunday, playing the "babyface" -- wrestling speak for good guy -- in a contest that pitted the Jersey Shore star, John Morrison and Trish Stratus against Dolph Ziggler, Layla and McCool.
Ryan Phillippe and Amanda Seyfried got quite close as they waited for their luggage at Charles de Gaulle Airport in Paris, France. After retrieving their bags, the Cruel Intentions star and Big Love beauty made their way to their hotel. The couple are currently in town to attend the premiere of The Lincoln Lawyer.
Canadian singer Michael Bublé and Argentina-born actress Luisana Lopilato were married on a ranch outside of Buenos Aires on Saturday. Sadly, robbers ransacked the singer's Buenos Aires house while he was exchanging his "I do's."
Article continues below advertisement
Move over, Mike "The Situation": Teen singing sensation Justin Bieber stopped a lot of hearts in Spain when he showed off his rock-hard abs while kicking the soccer ball around Monday.
Teen Mom parents Amber Portwood and Gary Shirley were seen holding hands and leaving an appointment together. The star of MTV's Teen Mom was arrested late last year for a televised attack on her burly baby daddy.
Country superstar LeAnn Rimes looked a shadow of her former fit self when she appeared at the NCAA finals basketball game in Texas. Sporting a designer Dolce & Gabbana designer white lace dress, the 28-year-old appeared gaunt and thin, as speculation grows that she has lost too much weight as she prepares to marry actor Eddie Cibrian.
Gorgeous Mariska Hargitay, who plays Detective Olivia Benson on NBC's Law & Order: SVU, was seen leaving her New York City home with her 1-week-old baby Amaya Josephine, who she recently adopted.
RELATED STORIES: