Exclusive
VIDEO: Weird Al Yankovic Goes Gaga In New Spoof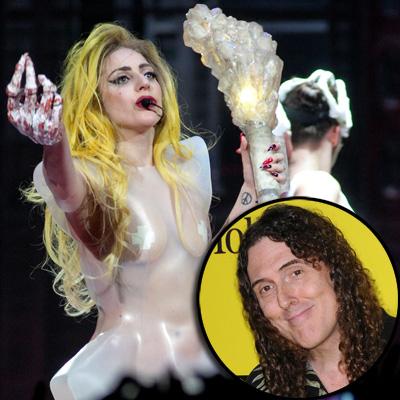 by Radar Staff
Musical comedy icon Weird Al Yankovic is going totally Gaga – spoofing the great Lady's hit song Born This Way, which he posted on YouTube Thursday.
However, it seems Lady Gaga wasn't impressed by the parody, entitled Perform This Way, as she refused permission for Yankovic to include it on his new album which is due for release this summer.
"The following song was supposed to be the first single from my upcoming album," Yankovic says in a title card at the beginning of the video. "Unfortunately, it did not meet Lady Gaga's approval."
Article continues below advertisement
But maybe he spoke too soon as New York Times journalist Dave Itzkoff reported via Twitter that Gaga seems to have finally seen the funny side and relented on her earlier decision.
"BREAKING! Weird @alyankovic's manager tells me @ladygaga has now given permission for "Perform This Way" to be included on his album," he tweeted.
Gaga joins a hallowed list of performers that have been sent up by Yankovic, including Michael Jackson, Madonna, Nirvana and Coolio.
In his parody Yankovic pokes fun at Gaga's outrageous flair for the dramatic and wacky persona: "I'm sure my critics will say it's a grotesque display -- Well, they can bite me, baby -- I perform this way... I might be wearin' Swiss cheese or maybe covered with bees.. It doesn't mean I'm crazy -- I perform this way," he sings.
And it's all for a good cause, Yankovic will be donating profits from the song to the Human Rights Campaign.
Watch the video here on RadarOnline.
RELATED STORIES: