VIDEO: Jenn Sterger: Brett Favre 'Like That Guy At The Bar That Just Could Not Get The Hint'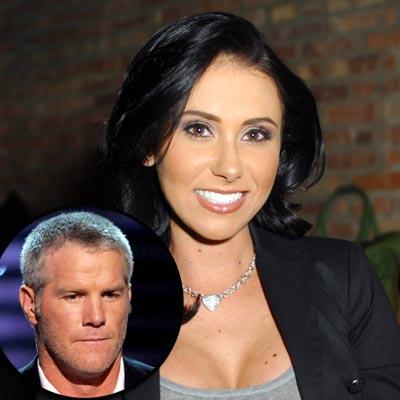 Jenn Sterger, the ex-New York Jets sideline reporter who was reportedly the target of Brett Favre's sexting indiscretions during his 2008 stint on the Jets, told Good Morning America on Tuesday that the three-time NFL MVP "was like that guy at the bar that just could not get the hint."
Sterger, breaking her silence to ABC's George Stephanopoulos after months of laying low, said she's realized she "was in a lot of trouble" when the married father-of-two reportedly sent explicit pictures of his private parts, racy text messages and leering voice mails to her in hopes of a rendezvous.
Article continues below advertisement
"I staved him off and I did my job," Sterger, 27, said, noting the harassment vanished when Favre left the team to play for the Minnesota Vikings.
Sterger said the story was leaked after she was betrayed by a Deadspin blogger who broke it without her consent, noting she didn't make any money off the scandal.
Also of note: besides a few brush-bys, Sterger said she's never actually met Favre, the man her name will be indelibly linked to for years to come.
"We've never met, there's never been an introduction," she said. "That's it, I never met the man."
Watch the video on RadarOnline.com
Favre, 41, was fined $50,000 by the NFL last year for his lack of cooperation in their subsequent investigation of his actions.