VIDEO: Elton John Sings With The Queen On SNL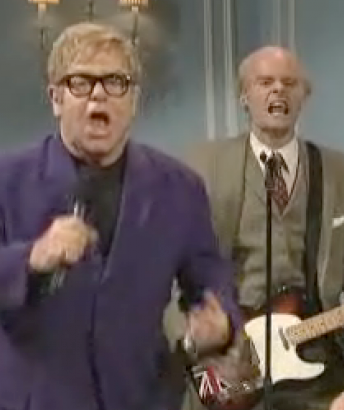 Elton John hosted Saturday Night Live for the first time in nearly 30 years, and he obviously had a blast doing it. The singer-composer-producer and new dad was in almost every sketch, RadarOnline.com is reporting.
Elton threw himself into the comedy, never taking himself too seriously. He was part of a Digital Short called Laser Cats: the Musical, played a openly gay aging film critic, and as himself, had a meeting with Queen Elizabeth and Prince Philip to discuss the music for their grandson Prince William's wedding.
Article continues below advertisement
With the great SNL regulars Fred Armisen and Bill Hader as Elizabeth and Philip, the trio ended up jamming.
"How does it feel not to be the craziest queen in the room?" asked Armisen as Elizabeth as she pounded the drums.
VIDEO: Jesse Eisenberg Meets Mark Zuckerberg On SNL
"Refreshing!" Elton replied.
It's a LOL bit and you can watch it here on RadarOnline.com.