VIDEO: Jesse Eisenberg Meets Mark Zuckerberg On SNL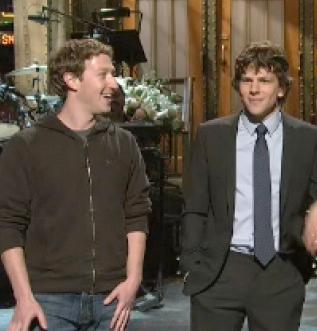 There was a genius trifecta of Mark Zuckerbergs on Saturday Night Live last night, and you can catch the LOL bit here on RadarOnline.com.
Jesse Eisenberg hosted the show, and the actor who is Oscar-nominated for playing Mark Zuckerberg in The Social Network was sandwiched on stage by SNL star Andy Samburg impersonating Zuckerberg and the real-life Facebook founder himself!
Article continues below advertisement
Eisenberg came across as super nervous during his opening monologue until he was joined on stage by Samburg dressed as Zuckerberg, and the two compared notes on playing the usually reclusive billionaire.
It could have been awkward when the real Zuckerberg joined in, except that the internet legend seems to be finally loosening up and accepting his celebrity status. He even admitted to seeing The Social Network. His one word review: "interesting."