Tornado Death Toll Mounts In Tiny Phil Campbell, Alabama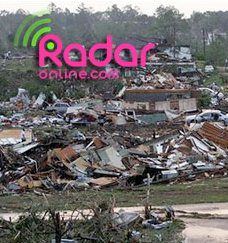 By Radar Staff
A woman in the tiny tornado-ravaged town of Phil Campbell, Alabama lost both her home and family restaurant while six of her closest neighbors were killed in the carnage.
Veronica McKenzie Dummar, whose cousin was the late British pop star Billy McKenzie, has been left totally devastated by the killer twister that also flattened her son Adam's home.
RadarOnline.com introduced you on Friday to Phil Campbell, population 1019. The death toll was then 12. As of Saturday morning, it has risen to a shocking 30.
Article continues below advertisement
That's a full 10 percent of the total estimated death toll from the 160 tornadoes that ripped through the South on Wednesday.
Veronica's daughter, Las Vegas based nurse Heidi Blessing, told RadarOnline.com: "I'm desperately trying to get home to help my family who have lost absolutely everything in the tornado that hit Phil Campbell.
"My mom has lost her house and her restaurant, Mrs. D's, which was totally flattened plus my brother Adam's house was also leveled.
"I managed to get my mom on the phone for a short time and she told me: 'At least we are alive things can be replaced.' "She just huddled down in the middle of her house as the tornado ripped it apart but miraculously she survived.
"Despite of everything we are lucky because none of my family were killed. Six of my mom's neighbors perished in the tornado and the death toll now stands at 30 people."
President Barack Obama described the loss of life as "heartbreaking" and called the damage to homes and businesses "nothing short of catastrophic." He promised strong federal support for rebuilding and plans to view the damage on Friday.
Over several days this week, the powerful tornadoes - more than 160 reported in total - combined with storms to cut a swath of destruction heading west to east.
It was the worst U.S. natural disaster since Hurricane Katrina in 2005.
RELATED STORIES: