Cops Called After Amber Portwood's Car Vandalized With 'Slut' & 'Hoe' Taunts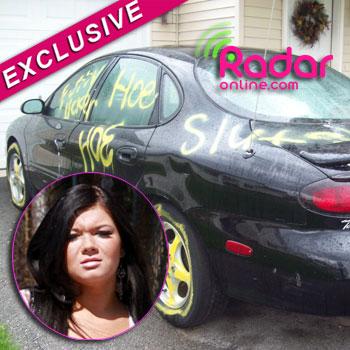 by RadarOnline.com Staff
Teen Mom star Amber Portwood's car was vandalized in the wake of a woman's claim that the MTV star stole her baby daddy, RadarOnline.com is reporting exclusively.
The words 'slut,' 'hoe,' and 'f*cker' were spray painted on Amber's Ford Taurus and her Anderson, Ind., home was "egged." And RadarOnline.com obtained exclusive photos of the damage.
Furious Amber, 20, called cops after discovering the damage late one evening on Easter weekend.
Article continues below advertisement
Amber was accused by her neighbor, Jamie Monroe, of stealing her baby daddy, Midas Fields. That situation is detailed in the new issue of Star magazine, where Jamie reveals she threw out Midas after catching him with Amber, who lives only a half block away.
"Everyone around Anderson knows any guy is fair game for Amber is she gets her hooks in him, even if he's already taken," Jamie, 28, told Star in the issue that is on sale now. She also told Star that after she threw Midas out, he stayed with Amber, and Amber taunted Jamie by yelling, "I'm ridin' your baby daddy!"
Field is a maintenance worker who has been living with Jamie for the past three years. They have a one-year-old daughter Jaicee.
But the pair split when Midas, 25, confessed: "I'm spending time with her (Portwood). I enjoy it."
Now in the wake of that scandal, Amber's mother Tonya told RadarOnline.com she discovered the damage to the house and car. The garage door also had a profanity spray-painted on it too, Tonya said.
Article continues below advertisement
"Amber is upset at the vandalism," Tonya told RadarOnline.com, in an exclusive interview.
"Amber was forced to call the police, at around 3 am, when she came home with her aunt and Midas, from a dinner."
Tonya told RadarOnline.com that Amber had an encounter with Jamie earlier that evening.
"Jamie, who lives across the street from Amber, noticed that my daughter was with Midas and came out of her house and confronted them," Tonya said.
Tonya told RadarOnline.com that while Midas has a "crush" on Amber, they're not an exclusive item -- and Amber has again been spending time with the father of her child, Gary Shirley.
"Midas has a crush on Amber, but Amber is still seeing Gary although they're not officially back together," she said.
But Jamie tells Star magazine that Amber mooned her and screamed at her during one confrontation as Midas hustled the MTV star into the house.