Exclusive
AUDIO: Spencer Pratt Wants To Enlist Ryan Seacrest In Bid To Become 'More Likeable'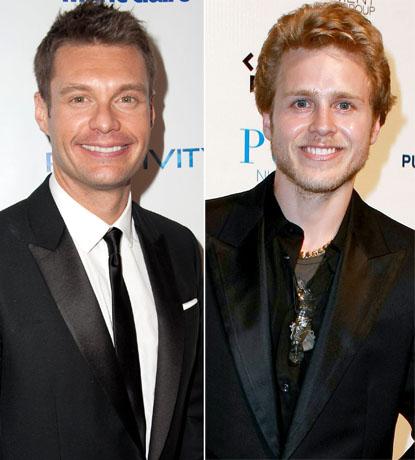 Reality TV's favorite bad guy wants to do a 180 and he's attempting to enlist the help of Hollywood's Mr. Nice himself, Ryan Seacrest, in his bid to become "more likeable."
Spencer Pratt rang into Seacrest's KIIS FM radio show Thursday morning to share his plans, and RadarOnline.com can bring you the interview.
AUDIO: Spencer Brad Wants To Become 'More Likeable'
Spencer said that he's eager to change his image and make himself more likeable – and that he thinks Ryan is the perfect guy to help make that happen - hence he wants to apply to work as his intern!
Article continues below advertisement
"How do you go from being hated to even a little bit likeable?" Spencer asked. "It's about who you are around. In the past I was around a lot of hated people at the Hills – so I've learned – you need to be around likeable people to even start being likeable.
"And who's the most likeable person in showbiz, if not the world? Ryan Seacrest!"
When asked what's brought around this sudden desire for a radical image overhaul, Spence shared that he's spent a lot of time "reflecting" on his past mistakes.
"I got a nice nine month vacation on the beach collecting sand dollars and I really got to reflect and I realized in Entertainment you can definitely go too far and people take things way more personal than I in the past took things," he explained.
"I've just had lots of time to think and ponder all the decisions I've made and I'm ready to start a whole new leaf."
One thing Spencer doesn't want to change though is his relationship with his wife Heidi Montag – the two are still happily together he said and she's currently working hard at her new reality show.
Article continues below advertisement
"She's up everyday at 4.30am," Spencer said. "She starts her day with jumping rope and I'm still asleep – then she heads off to film for this new series for VH1. She doesn't get home till at least 10pm so I'm twiddling thumbs all day – I'm like 'I need to get a job!'"
So, will Spencer soon be joining the crew at Seacrest Towers? We will have to wait and see!