Kimberly Stewart's Mom 'Thrilled' With Baby News; Her Dad Rod's Mum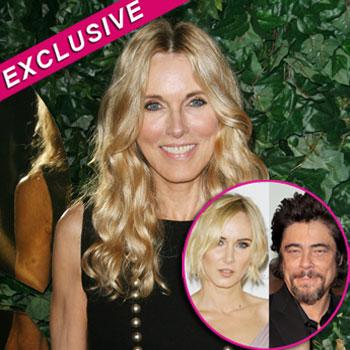 By Cliff Renfrew
RadarOnline.com Staff Reporter
Alana Stewart, rocker Rod Stewart's ex, is "thrilled" that her daughter Kimberly Stewart is having a baby with the ruggedly handsome Oscar winner Benicio del Toro.
How's first-time gramps Rod, the singer of Maggie May, feeling about it?
Hot Rod, who has EIGHT children with FIVE women, ain't talking. But he was seen breaking bread with Kimberly in L.A. during a stop on his current tour over the weekend, and they got along just fine!
Article continues below advertisement
Reality TV star Kimberly and del Torro announced recently that they were expecting a child together as Kimberly's baby bump started showing.
And grandma-to-be Alana picked RadarOnline to help her put to rest rumors that the pregnancy had caused a rift in their famous family.
Said award-winning TV producer Alana: "I'm really happy and thrilled for them both. Kimberly is delighted!"
Sources said the couple made a joint decision to have the child although their relationship was extremely short-lived. Stewart, 31, and del Torro, 44, are friends and he's committed to help raise his child.