PHOTOS: Alicia & Alyssa Show Off Baby Bumps In LA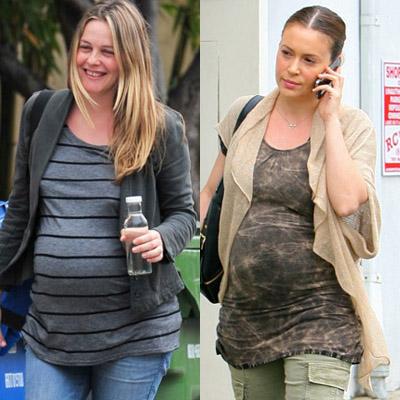 by Radar Staff
Los Angeles is a little bumpier than usual these days.
Two first-time moms, Who's The Boss star Alyssa Milano and Clueless star Alicia Sliverstone, showed off their growing baby bumps in Los Angeles on Monday.
Milano was spotted chatting on her phone as she went out to lunch with pals. The beauty, who's been married to hubby Dave Bugliari since August 2009, looks like she's already a nurturing and prepared mommy.
Article continues below advertisement
"I'm taking an infant CPR class with the @RedCross!" she tweeted Tuesday.
Sliverstone, in the meantime, was seen leaving pal Alanis Morissette's home.
The star of Aerosmith's Cryin' video got a helping hand from the You Oughta Know rocker's hubby, Mario Treadway.
RELATED STORIES: