PHOTOS: Lady Gaga Very Unladylike At Florida Concert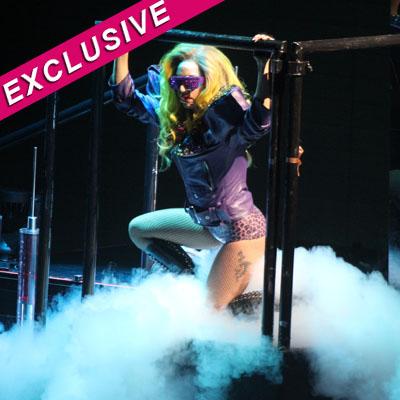 Two days after falling on-stage during a performance in Houston, Lady Gaga was back to her usual raunchy self at a gig the BankAtlantic Center near Fort Lauderdale, Florida on Tuesday night, yelling to the audience.
"I hope you brought your d*cks!"
And unlike her stage slip-up in Houston, this time the outrageous Born This Way singer performed her flaming piano jump successfully as the crowd cheered her on.
Article continues below advertisement
At one point, in a sentimental moment, she dedicated her song "You and I" to Bruce Springsteen's saxophone player, Clarence Clemons, who was in the audience with his wife telling Clemons that she had grown up listening to his music from records played by her father.
One concert goer exclusively told RadarOnline.com: "Gaga put on a good show, but it was pretty laced with profanities throughout, and she dropped the 'f-word' a lot.
"This was probably not appropriate for the younger kids in the audience and a lot of people did not like the reference about 'bringing their d*cks' either.
"She had no problems jumping off the piano and did not appear nervous or anything when she tried the stunt."
The crowd responded well to her throughout, and at one point she told us that she would 'never f***** lip sync even if she was singing for free'.
Article continues below advertisement
"There were a lot of elaborate costume changes and video images flashed throughout the concert and at one point she fought with an 'Animatronic Monster' which wrapped its tentacles suggestively around her.
"It was cool of her to dedicate a song to Clarence Clemons and throughout the crowd was very supportive of her performance although a little less profanity would have been better.
"The stadium can hold around 10,000 people, and there were some empty seats which was a surprise considering she is such a big star now.
"She came on stage at around 9:45pm ET and played until 11.20 before playing Bad Romance as her encore.
"Overall she put on a great show."
Lady Gaga's next concert is set for Wednesday night in Miami. Her new single Judas is set for release on Tuesday, April 19.
RELATED STORIES: