Exclusive
PHOTOS: Famous Mothers And Daughters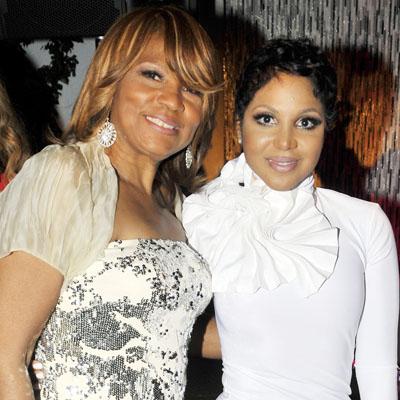 It seems when it comes to the Braxton family – mother really does know best!
On the latest sure fire hit, The Braxton Family Values, viewers get an in depth look into the lives, loves and drama of the famous Braxton sisters and their headstrong manager mom, Evelyn.
R&B star Toni Braxton joins her four younger singing sisters, Traci, Trina, Towanda and Tamar as they deal with sibling rivalry, man issues and money matters, all under the watchful eye and guidance of Evelyn.
Article continues below advertisement
The Braxton Family Values premieres on We TV on April 12 at 9 pm/8 pm central, and to celebrate RadarOnline.com takes a look back at some of the most famous mother-daughter relationships in Hollywood.
Goldie Hawn and Kate Hudson - A blonde bombshell just like her mom, Kate followed in Goldie's footsteps both as an actress and an Oscar nominee.
Joan and Melissa Rivers - The most ferocious mother-daughter duo on TV, Melissa and Joan have shared the spotlight on the red carpet and in the studio as the Fashion Police.
Sharon and Kelly Osbourne - The Osbournes were the first to transform dysfunctional family values into a hit reality show, as Sharon and Kelly battled over everything from teenage traumas to drug drama.
Demi Moore and Rumer Willis - Demi and Rumer are more like friends than mother and daughter, with the oldest of Demi's three girls even being best pals with step-dad Ashton Kutcher.
Tipi Hedren and Melanie Griffith - As The Birds star's only daughter, Melanie is like her mom in every way - from their movie roles to their multiple marriages!
Article continues below advertisement
Madonna and Lourdes - Glamorous Lourdes has grown into a Material Girl just like mom Madonna, and now that she's a student at New York City's most prestigious performing arts school she's bound to be a superstar too.
Blythe Danner and Gwyneth Paltrow - Thanks to Emmy-winning mom Blythe, Gwyneth grew up in a Hollywood household that encouraged her to become an actress, and the pair went on to star together in Sylvia.
Naomi and Ashley Judd - Naomi and Ashley remain close even though the Southern mom reportedly disapproves of most of her daughter's movie choices because they contain sex, nudity, sex, and violence!
Janet Leigh and Jamie Lee Curtis - The late actress will always be best remembered for being the victim of the iconic Psycho stabbing scene, while daughter Jamie Lee had her big movie break in the equally bloody Halloween series.
Article continues below advertisement
Susan Sarandan and Eva Amuri - Susan and Eva have shared both the big and small screen together in The Bangar Sisters, Friends and Days Of Our Lives.
Ivana and Ivanka Trump - With only one letter difference in their names, Ivana and Ivanka share the same blonde hair, high-end fashions and bulging bank accounts thanks to Donald's millions.
Kathy and Paris Hilton - Fame is the family business for the Hiltons! Kathy and Paris regularly walk the red carpet together and have joined forces on Paris' latest reality show.
Priscilla and Lisa Marie Presley - What other mother and daughter can both claim to have married the number one musical icon of their generation? With Elvis Presley and Michael Jackson as their respective exes, Priscilla and Lisa Marie certainly wed well.
Hilary and Chelsea Clinton - Senator Hillary Clinton is proud as punch of her newly-married daughter Chelsea, who tied the knot in the wedding of the year last summer.