PHOTOS: Chaz Bono: I Kissed A Girl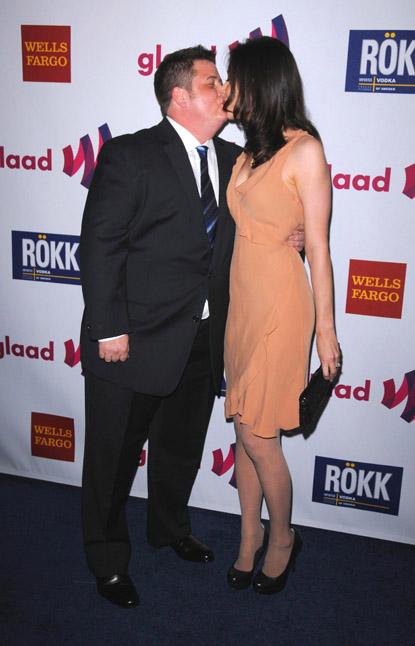 Chaz Bono and his girlfriend Jennifer Elia sealed their love with a kiss at the GLAAD (Gay and Lesbian Alliance Against Defamation) in Los Angeles on Sunday afternoon, and RadarOnline.com has the brand new photos of the happy couple.
Chaz and Jennifer -- who've been together for 5-years -- walked the red carpet at the star-studded event -- in support of the 22nd GLAAD Media Awards at the Westin Bonaventure Hotel in L.A.
Article continues below advertisement
VIDEO & PHOTOS: Kristin Chenoweth Honored At Star-Studded GLAAD Awards In LA
The GLAAD Media Awards honors media for accurate and inclusive representations of the lesbian, gay, bisexual and transgender communities and the issues affecting their lives. At the event, Tony and Emmy Award winner Kristen Chenoweth was among the night's top honorees, along with NBC Entertainment Chairman Robert Greenblatt, and the TV shows Glee and Modern Family.
During the event, Chaz tweeted: "Just heard the legendary Dolly Parton sing 9to5 at the Glaad Media Awards."
Chaz, 41, who was born Chastity, has now legally changed his name and gender and has recently been promoting his documentary Becoming Chaz which tells the story of his sexual transformation from a woman to a man.
The documentary premieres on Tuesday, May 10 on OWN.