PHOTOS: Blockbuster Bootys! Bigscreen Babes Show Off Their Bikini Backsides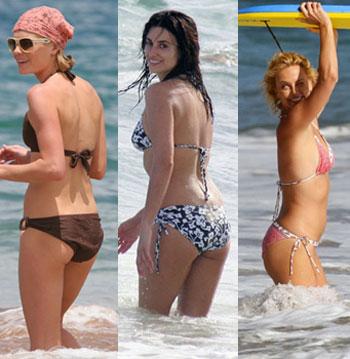 RadarOnline.com Style & Beauty Editor
These smoking hot bigscreen babes are more than just pretty faces they have the most banging bootys on the beach! RadarOnline is honoring the most bootylicious bikini babes both big and small in this special photo feature.
The gorgeous Jessica's have gained much famed for their terrifically toned tushes. Both J. Alba's small and shapely bikini backside and J. Biel's bangin' behind have snagged the stares of millions of men.
Article continues below advertisement
Gwyneth Paltrow recently shaped and toned her way to a perfect-10 bikini body and the results are obvious. The Academy Award winning actress couldn't have a more perfect booty!
What is Kristen Stewart 's sexy secret for attracting all the vamps? The Twilight sight keeps her tush in terrific shape.
And Jennifer Aniston and Demi Moore are two bigscreen bombshells who keep getting better with age and their bootys continue to get more and more banging.