PHOTOS: Audrina Patridge's Sizzling Hot Bikini Shoot!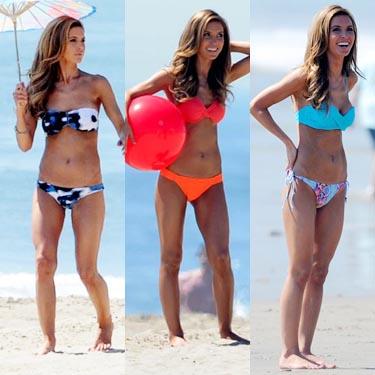 As the temperure hit a record 90 degrees in Southern California on Thursday, lovely Audrina Patridge hit the beach for a sexy bikini photo shoot in Santa Monica, and RadarOnline.com has the sexy shots.
For the shoot, the 25-year-old reality TV star and Dancing with the Stars alum modeled not one, but several brightly colored, teenie weenie bikinis including one with a bright blue bikini top with revealing flowery bottoms.
Article continues below advertisement
In one shot, we see a delighted Audrina clapping as her model friend does an impressive back flip.
With her dancing days now behind her, Audrina is preparing to launch her new VH1 reality show, which focuses on how she deals with juggling the pressures and trappings of fame with an everyday family life.
So far, The Hills star hasn't dished too much about her new show.
"It's a reality show about me and my family," she told Us Weekly last year. "Everything that people have wondered about me, they'll now get to see."
Her mother Lynn, her father Mark and her three siblings co-star on the show, which is simply called, Audrina.
Earlier this week, Audrina posted on her Twitter page: "I love my family more than life itself!,I feel so blessed/grateful for everything god has put in my life good or bad. Everyone has a purpose."
Audrina premieres next month on VH1.
RELATED STORIES: