Octo-Mom Ponders Offer From Cash-For-Date Website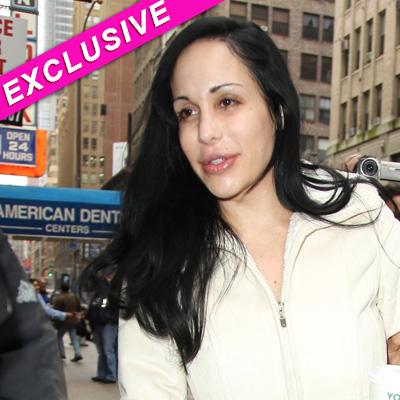 Nadya Suleman is single and hard up for cash, but might be able to kill two birds with one stone!
A new dating website that specializes in negotiating fees for a first date has offered the 35-year-old Octo-Mom a lifetime membership.
Whatsyourprice.com officials estimate Suleman could rake in anywhere from $5,000 to $10,000 for a first date, RadarOnline.com has learned.
In the site's offer letter, it touts itself as "the first dating site that allows you to make money dating." And that, a source said, is very appealing to the mother of 14.
Article continues below advertisement
"Nadya thinks it could be a good idea and she might even find a companion out of it," a Suleman confidante said. "The money would be great, but even better she could maybe find a partner...who knows, even a soul mate."
Whatsyourprice Customer Care Director Stephan Smith tells RadarOnline.com: "Our website researchers took into consideration all of Nadya's potential pros and cons, including her 14 children. Surprisingly, it did not negatively impact her estimated first date value."
The offer letter goes on to suggest that negotiating a price for a first date would allow Octo-Mom to tackle "babysitting costs and other potential hurdles that a single mother may go through in order to make the time to go on a first date with someone."
Octo-Mom has publicly stated that it's been several years since she's dated and has been battling to prevent being evicted from her home.
RELATED STORIES: