Exclusive
Nic Cage Dropped His Son During Drunken Arrest – May Be Facing Child Protection Probe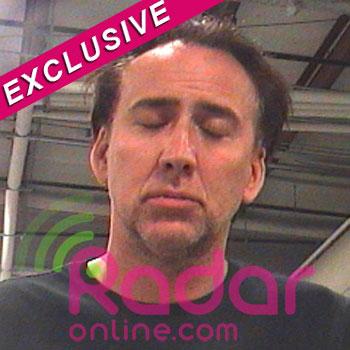 RadarOnline.com Staff Reporter
and
RadarOnline.com Police Reporter
Not only did Nicolas Cage not know where he lived last weekend during his drunken stupor in New Orleans, but according to the Incident Report obtained by RadarOnline, the actor dropped his son while he was intoxicated.
"At some point, Mr. Cage fell while holding their son. The fall caused the five (5) year old child to suffer a minor abrasion to his left knee, and she Alice then recovered the child," the report reads, after stating the couple had been at dinner with some friends earlier in the evening where Nicolas had been drinking. Alice then drove them to a friend's house and Nicolas went in to pick up their son.
Article continues below advertisement
EXCLUSIVE DOCUMENTS: Read Police Report Of Nicolas Cage's Drunken Arrest
Nicolas was arrested on April 16, 2011 in the Big Easy for Simple Battery (Domestic) after police were called to the 600 block of Dumaine Street by an unknown taxi driver. And aside from his wife, Alice Cage, telling officers that Nic dropped their son, Kal-El, another witness said he saw a similar incident.
"As Mr. Cage was being transported, Sergeant Smith was approached by Officer Wild who was still on scene, he informed Sergeant Smith that an unknown white male passer-by, who was walking a dog, stated that he observed Mr. Cage pull the male child to the ground by his hand," the incident report reads.
"Based upon this information, and Mrs. Cage's earlier statement, a child abuse detective was notified."
The child abuse detective determined that no further investigation was merited, but noted that a representative of Child Protective Service may be contacted and an investigation launched.
A photograph was taken of the child's injury but Alice declined to let Sergeant Smith interview him, and she also declined to write a handwritten statement of the incident.
MORE ON:
Celebrity Justice
Article continues below advertisement
"He was yelling, 'Get the police! Get me outta here! She's trying to kill me!'" the report said of Nic's state during the incident.
"The male Nicolas appeared heavily intoxicated, displayed slurred/loud speech and was belligerent."
Officers on the scene attempted to calm down Nicolas for nearly 30 minutes in order to advise him of his rights.
According to the report, officers finally made the decision to arrest him based on his manic state, his level of intoxication and the victim and witness statements.
"Alice Cage reported that she and her current live-in husband, Nicolas Cage, were involved in a verbal altercation…grabbed her by the upper right arm and pulled her to what he believed was the correct location. She suffered no visible injuries," the report said.
"Alice Cage stated her husband was not attempting to injure her, but instead he was attempting to get her to follow him."
Nic has since returned to the set of his new movie, Medallion, and attended his older son, Weston's, wedding on Sunday.