PHOTO: Nic Cage Arrested Again In New Orleans! (This Time It's Only For A Film)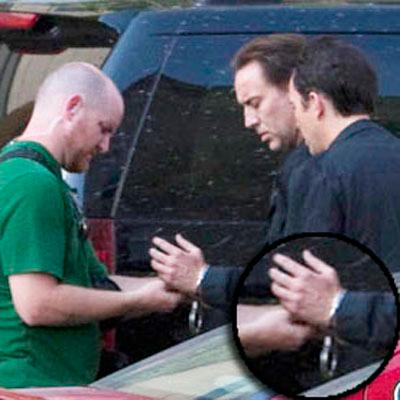 Life imitates art for actor Nic Cage.
The Oscar winning star was snapped Tuesday (ironically) being handcuffed on the set of his new heist movie Medallion being shot in New Orleans.
As RadarOnline previously reported, Cage was arrested (for real!) on Saturday, April 16 in the Big Easy for Simple Battery (Domestic) after police were called to the scene by a taxi driver following an altercation between Cage and his wife Alice.
Article continues below advertisement
Alice told officers that Nic had dropped their son, Kal-El; another witness said he saw a similar incident.
"He was yelling, 'Get the police! Get me outta here! She's trying to kill me!'" the police report said of Nic's state during the incident.
EXCLUSIVE DOCUMENTS: Read Police Report Of Nicolas Cage's Drunken Arrest
The report also states that officers arrested the Leaving Las Vegas star based on his manic state, his level of intoxication and the victim and witness statements.
"Alice Cage reported that she and her current live-in husband, Nicolas Cage, were involved in a verbal altercation…grabbed her by the upper right arm and pulled her to what he believed was the correct location. She suffered no visible injuries," the report said.
"Alice Cage stated her husband was not attempting to injure her, but instead he was attempting to get her to follow him."
Nic Cage is expected to appear in court on May 31.