Exclusive
PHOTOS: British Reality Star Katie Price Cheats Death In Horror Car Crash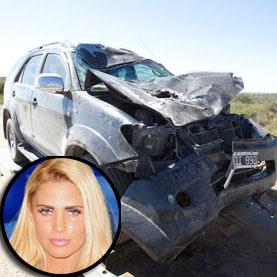 British glamour model turned reality TV star, Katie Price, was involved in a horrific car crash Sunday.
The 32-year-old model was traveling with her boyfriend, Leandro Penna, 32, in the Argentinian countryside when two horses ran out in front of their SUV.
One horse hit the front of the car and flew over the hood smashing the window screen and causing extensive damage – the horse died on impact.
Article continues below advertisement
Price, an avid equestrian was reportedly shook up and was "distraught" over the death of the horse.
She told the UK's Daily Mirror newspaper: "It was absolutely terrifying. It all happened in a flash and I have absolutely no idea how I wasn't badly injured.
"I feel so lucky, but more than anything I'm just distraught about the horses. It was so upsetting."
RELATED STORIES:
EXCLUSIVE: No Brake Lights Or Skid Marks In Dr. Ryan Car Accident Says Investigation Report