Exclusive
EXCLUSIVE: Television Producer Settles Farrah Fawcett Lawsuit Against Ryan O'Neal; Calls Him 'Squatter'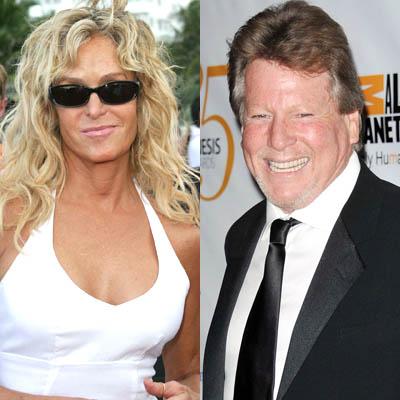 A multi-million dollar legal fight between a television producer and Farrah Fawcett's ex-lover Ryan O'Neal has been settled, RadarOnline.com is exclusively reporting.
But the war of words between the opposing camps is continuing, even though paperwork was filed in a Santa Monica courthouse indicating the case was 'dismissed' on March 29 -- which you can read here.
In a statement, the television producer Craig Nevius told RadarOnline.com he had become financially drained and was unable to continue the battle.
Article continues below advertisement
"After two years, I can no longer afford to fight Ryan O'Neal, Alana Stewart and Richard Francis over creative control of Farrah's Story and whether or not they had the right to take over the company that Farrah Fawcett and I formed to produce the documentary about her cancer fight and efforts to protect her privacy," he said.
Nevius was suing O'Neal, Fawcett's friend Alana Hamilton-Stewart and long-time business manager Richard Francis over the NBC Farrah's Story documentary.
He alleged he was shut out of the project and that the final cut didn't adhere to the actress' wishes.
In response, Fawcett's Estate filed a counter-suit against Nevius.
It alleged he was selling out the star by giving out information and footage without her approval and that he "embezzled hundreds of thousands of dollars" from the production firm he and Fawcett once co-owned.
"Contrary to accusations, I have not profited from the film or this litigation in any way whatsoever," Nevius said, in the statement.
Article continues below advertisement
"In fact, I have experienced profound losses, both professionally and personally.
"The only thing I am walking away with today is the knowledge that I did everything within my power to protect the artistic integrity and personal dignity of Farrah Fawcett who was not only my producing partner but my very dear friend.
"She showed me the best of humanity in the most trying of circumstances.
"I wish I could say the same of those who surrounded her during the last few months of her life.
"I will always believe that Ryan and Alana acted as squatters: isolating Farrah from me and others in order to obtain signatures that would ultimately allow them to turn the innovative and informative film we worked on for two years into a network deathwatch."
To read more of Nevius' statement, click here.
Howard Weitzman, the lawyer who also represents O'Neal, Stewart and Francis, told RadarOnline.com: "The frivilous lawsuit filed against Alana Stewart and Ryan O'Neal was dismissed by Mr. Nevius with no payment of any money to him and an agreement that he would return any property that rightfully belonged to Ms. Fawcett or her Estate.
Article continues below advertisement
"It was Farrah who decided to replace Mr. Nevius with her best friend of 30 years (Alana Stewart) and her life partner for over 30 years (Ryan O'Neal) despite his wishful thinking to the contrary.
"The statement issued by Mr. Nevius is another sad attempt to justify his actions by using the media to spew outrageous lies about Alana and Ryan.
"Farrah's Story only became a successful Emmy nominated documentary once NBC was able to take over the project from Nevius. Hopefully Mr. Nevius will move on with his life and fade away."