EXCLUSIVE NEW DETAILS: LeBron James' Mother Gloria Arrested At Posh Miami Beach Hotel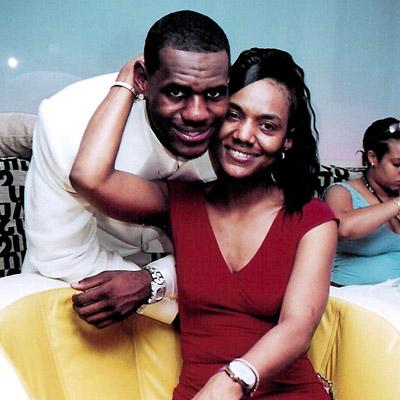 LeBron James' mother Gloria is feeling the heat, and it has nothing to do with her superstar son's hoops career.
The mother of the NBA's most-celebrated player was taken into custody at the posh Fontainebleau resort in Miami Beach around 4:57 am ET Thursday, after getting into an altercation with a car parking valet attendant, police exclusively told RadarOnline.com.
Gloria was handcuffed at the scene during her arrest. A spokesperson for the Miami Beach Police Department tells us that James was issued a citation for misdemeanor simple battery, and released on her own recognizance with a promise to appear in court at a later date; police did not take a mug shot of her.
Article continues below advertisement
A source at the Fontainebleau exclusively told RadarOnline.com: "The incident happened after she pulled into the hotel during the early hours of Thursday morning. She got into an altercation with one of the car parking valets who works for a private company contracted by the Fontainebleau. The police were called to the scene, and she was subsequently arrested. It is not believed any alcohol was involved in the dispute."
A spokesperson from the famous hotel told RadarOnline.com that they would not be making a comment, as police investigations were ongoing.
This is not the first time Gloria has had a brush with police: she also arrested in Akron, Ohio for drunken driving back in January, 2006. In May of that same year, she pleaded no contest to four charges in connection with the incident. She had to perform 100 hours of community service, cough up $550 in fines and damages, and attend a class on the dangers of drug and alcohol abuse.
Article continues below advertisement
Gloria also caused a minor stir last spring, when rumors sprouted she'd been secretly dating her son's then-teammate, Delonte West.
Meanwhile -- as for her famous son -- LeBron James continued putting the finishing touches on another MVP-caliber season, racking up 29 points and 8 assists in the Heat's 90-85 loss to the Milwaukee Bucks Wednesday night in Miami. The future Hall-of-Famer added another milestone in the defeat, becoming the eighth player in NBA history, and youngest ever at 26, to rack up 2,000 points in seven seasons.
Stay with RadarOnline.com for more on this story as it breaks.
RELATED STORIES: