AUDIO: Kobe Bryant Admits Wrongdoing After He's Fined $100K For Anti-Gay Slur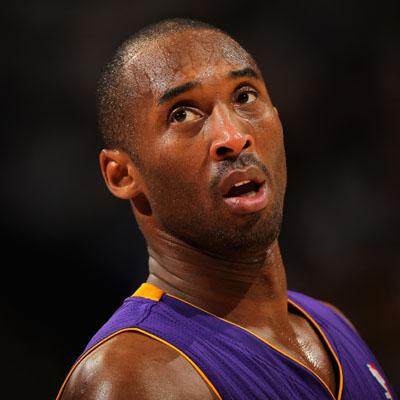 Kobe Bryant's going to take responsibility for his actions.
The Los Angeles Lakers shooting guard on Wednesday told 710 ESPN he was wrong in the wake of the league fining him $100,000 for heckling referee Bennie Adams with an anti-gay slur ("f****t"), after Adams gave the 13-time All-Star a technical foul in his game against San Antonio Spurs a night before.
"It was just frustration, it was the pure frustration," Bryant told the radio station. "You're in an emotional game and in the heat of the moment you have outbursts. You say things. It doesn't mean you mean what you say."
Article continues below advertisement
Bryant said he's concerned he set a bad example as a role model, as he hopes his fans won't "take what is said as a message of hate or a license to degrade or embarrass or tease.
"That's something I don't want to see happen," Bryant said. "It's important for me to talk about that issue because it's OK to be who you are, and I don't want this issue to be a part of something, or to magnify something that shouldn't be."
Listen to the audio on ESPN Radio
As for the $100,000 fine, Bryant, 32, said, "You got to own up and take responsibility for what it is.
"I'm not going to sit here and say it's not warranted, this, that and the other. It's a judgment call they decided to make, and I abide by it," Bryant told the radio station. "We will appeal it and that's typical protocol, we'll wait and see -- but as an individual, you have to be responsible for your own actions.
Article continues below advertisement
"The comments I made were perceived differently than I thought them to be, but they're nonetheless wrong."
NBA Commissioner David Stern called the Los Angeles Lakers guard's comment "offensive and inexcusable.
"While I'm fully aware that basketball is an emotional game, such a distasteful term should never be tolerated. Kobe and everyone associated with the NBA know that insensitive or derogatory comments are not acceptable and have no place in our game or society."
Human Rights Campaign President Joe Solmonese praised the hoops leader for his "swift and decisive action" in the matter.
"We applaud Commissioner Stern and the NBA for not only fining Bryant but for recognizing that slurs and derogatory comments have no place on the basketball court or in society at large," Solmonese said, adding Bryant personally contacted him to make amends on the matter. "At the end of a difficult day, I applaud Kobe for coming forward and taking responsibility for his actions."