AUDIO: Katie Holmes On Playing Jackie O, Suri's Birthday & More!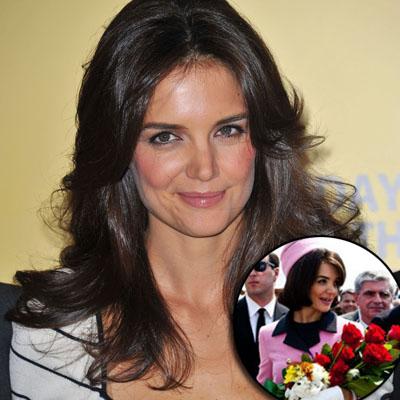 Katie Holmes chatted about The Kennedys in a segment on On Air with Ryan Seacrest Monday, saying that she gained a newfound respect for former First Lady Jacqueline Lee Bouvier Kennedy Onassis while portraying the American icon in the controversial new ReelzChannel mini-series.
The mini-series documents President John F. Kennedy's time in office prior to his assassination in November 1963, and Greg Kinnear plays John. The Kennedys was originally slated to air on The History Channel, but yanked by the network, who said "this dramatic interpretation is not a fit for the History brand." (Noteworthy is that Seacrest avoided the controversy altogether in Monday's segment.)
Article continues below advertisement
Holmes said she "didn't know that much" about the family, but her "respect and admiration for Jackie just grew with every story I read, seeing the footage of her.
"What we tried to achieve with the miniseries was showing the human side of ... we set out to almost make it, almost like a Greek tragedy," Holmes said of the mini-series.
Holmes said that one of her favorite elements in playing Jackie O was wearing the former first lady's trend-setting fashions.
"We created a lot of her looks -- yeah, it was really fun," Holmes said. "I still look to her fashion today and it inspires what I wear."
Hear the audio on RadarOnline.com
Also on the slate for discussion was the upcoming birthday of Katie's daughter with hubby Tom Cruise, Suri, who turns 5-years-old on Monday, April 18.
"She wants a piñata and her girlfriends to come over and some swimming and were gonna make a cake together," Holmes said of her birthday plans for her little girl. "This is my favorite day of the year ... I like to girl it up!"
Article continues below advertisement
Seacrest asked Holmes about Cruise's new role in the musical film Rock of Ages.
"It is a dynamic role and he's so excited to do it ... he's thrilled," Holmes said, adding her A-list hubby "knows how to prepare for things, and really puts the work in and strives for the best.
"It's really inspiring."
An encore showing of part one of The Kennedys airs on ReelzChannel Monday.
EXCLUSIVE INTERVIEW: The Suri Effect: Store Announces Increase In Adult Candy Sales