AUDIO: Courteney Cox & David Arquette Spill Sex Secrets To Howard Stern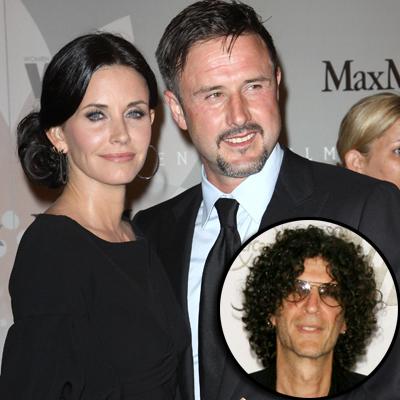 At the rate these two are spilling the dirt, Scream 4 better outdraw Avatar.
Courteney Cox, on the promotional trial Thursday for the fourth installment in the hit film series, filled Howard Stern in on the juicy details of her estranged hubby David Arquette's pass at her at Disneyworld -- and Arquette was in the studio taking it all in!
As RadarOnline.com previously reported, Cox told David Letterman on Wednesday about David's attempt at romance, and how she shut him down by telling him, "You don't have the fast pass right now -- not for that ride!''
Article continues below advertisement
On Thursday, Cox gave more details about Arquette's wild sex drive -- and how it became an "problem" in their relationship.
Hear the audio on RadarOnline.com (Caution: Interview is of adult nature)
Listen to David Arquette and Courteney Cox on Howard Stern
"It was early in the morning and ... whenever I would need consoling from David, he could not literally put his arm around me for one second without completely getting a boner ... it was like, 'Oh sorry your dad's dying -- can we f***k?'"
"That time I was good!" Arquette protested.
"It wasn't the right time and I don't want to confuse the issue," Cox said.
Scream 4 hits theaters April 15.
RELATED STORIES: