VIDEO: Tiger Woods' New Interview: 'I'm Present With My Kids And That's What's Important'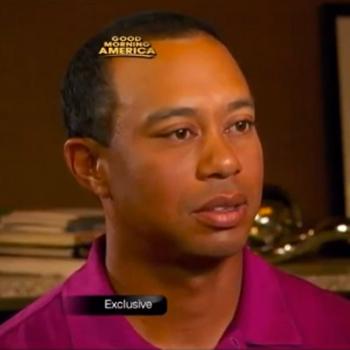 Tiger Woods tells Good Morning America's Robin Roberts in an exclusive interview on Thursday about his adjustment to life as a single father, and how his family life's been since his divorce from Elin Nordegren -- including his relationships with daughter Sam, 3, and son Charlie, 2.
"I think I'm more present in my kids' lives," the man with actual "Tiger blood" running through his veins tells Roberts in a preview released by ABC. "I'm present with my kids, and that's what's important.
Article continues below advertisement
Woods said of adjusting to being a single dad, in the wake of his August 2010 divorce: "It's work, there's no doubt ... it's work -- it's tough but enjoyable."
Woods said that after spending the better part of a year in the eye of the tabloid storm, he's gotten his legs back under him by getting back to his roots: his family.
"Just came back to what's most important, went to family," Woods said. "And that's as simple as that, family is first. And that's what it was when I was growing up.
"My family, my mom and dad were always there, and they were always present for me," the Southern California-raised golf legend said. "And that's how I am with my kids now."
The embattled golf legend, 35, is on the promotional trail for his upcoming video game Tiger Woods PGA Tour 12, which hits stores March 29. He said he's confident he can break out of his slump on the links after a winless year which saw him lose his top-rated status.
Article continues below advertisement
Watch the video on RadarOnline.com
"It's been frustrating, no doubt, because, obviously, I enjoy winning golf tournaments, and I haven't done that in a while," he told Roberts. "I know what I'm capable of doing. And I know the shots that I'm hitting at home on the range. I know it's in me. I just need to bring it out in a golf tournament."
"I'm going to look at the fact that I need to keep progressing," he said. "I need to keep escalating my skills. And that's what I'm doing."