VIDEO: Mark Cuban Defends 'Getting Into Bed' With Charlie Sheen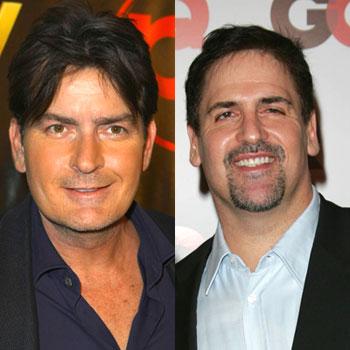 Dallas Mavericks owner Mark Cuban, who's been talking business with Charlie Sheen about a possible reality show, told MSNBC's Mika Brzezinski Thursday he's got no reservations doing business with the former Two and a Half Men star.
Asked if he was "getting into bed" with the TV star, Cuban said, "In bed? Absolutely not! Charlie's personal life is his personal life!"
The billionaire praised Sheen for his ability to manipulate the media and dominate Twitter in the wake of leaving Two and a Half Men, adding that he's had cameras following the enigmatic star around to gather content for a possible reality show.
Article continues below advertisement
Brzezinski said Sheen's "potentially not well" and asked Cuban, "Do you really want to get involved with something that could end quite badly? And do you really think it's the right thing?"
Cuban responded, "Mika, have you spent time with him? Is there something you know that I don't?
"Anyone who has gone through the pattern of behavior that Charlie has, there's unquestionable risks. There's no question, Mika, you've got to be concerned, and in all the discussions I've had with him and with the people around him, you know, they call it Sober Valley Lodge where he lives for a reason.
"Everyone is very concerned and very supportive to keep him that way," Cuban said. "Any former addict, there's always the risk of falling off and that creates risk in any business situation."
Watch the video on RadarOnline.com
Visit msnbc.com for breaking news, world news, and news about the economy
Cuban later said, "I don't get all that involved with Sheen's personal life, we have more of a business relationship... as long as I don't see any markers that tell me otherwise, I don't see a reason not to go forward with the TV project."