PHOTOS: Teen Mom Jenelle Evans Goes To Court For Ex-Boyfriend Assault Case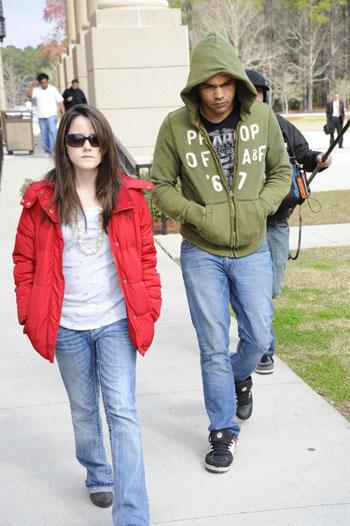 Troubled Teen Mom 2 star Jenelle Evans went to court in North Carolina Tuesday for a hearing regarding her ex-boyfriend Kieffer Delp, who is being charged with assaulting her, but the court date was continued until April RadarOnline.com has learned.
Jenelle filed charges against her on-off boyfriend on November 14, 2010 and he was charged with misdemeanor assault and injury to personal property. She appeared in court on Tuesday but the case was continued until April 18, 2011 the Brunswick County court spokesperson confirmed to RadarOnline.com.
Article continues below advertisement
Kieffer Delp also is facing charges of marijuana possession and breaking and entering and his next court date for those charges is April 14, 2011.
Jenelle also faces charges of possession of marijuana and breaking and entering and her next court date is April 29 , 2011.
An MTV camera crew followed Jenelle to the court for the hearing. The pair walked out of court together and told photographers that they might be back together again.
Jenelle recently spoke exclusively to RadarOnline.com about her dating life and struggles with being a single teen mom. "I'm putting relationships on the back burner for a while, and I'm focusing on Jace and going to college.
"I'm starting a new semester this summer at the local community college. I'm so excited. Other then that I have been seeing a therapist who is helping me cope with some of my issues and stresses."