PHOTOS: Stars Show Off Their Oiled Up Bikini Bods!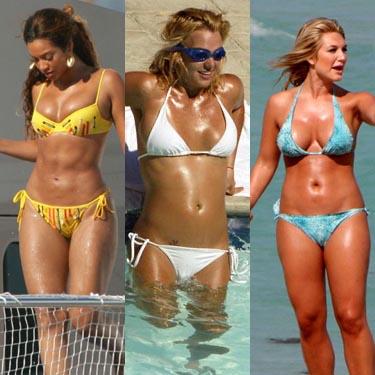 Stars bring enough heat to their beach when they strip down into their skimpy swimsuits, but when they add a coat of oil to their hot bodies, they set the sand on fire! RadarOnline.com has photos of the hottest bikini bods on the beach, glistening from head to toe in suntan oil. Click the next sentence to see stars showing off their oil-covered bikini bods.
Click Here To See Stars Showing Off Their Oil-Covered Bikini Bods
Article continues below advertisement
Britney Spears has always loved the sun, so it isn't a surprise that she oils up her hard body for a day at the pool.
Click Here To See Britney Spears Oiled Up And Sexy In A White Bikini
Pamela Anderson has plenty of experience applying suntan oil to her over exposed bod. Years after her hit television show, the Baywatch babe can still be found showing off her crazy curves on the beaches of Malibu, glistening and gorgeous.
Article continues below advertisement