PHOTOS: The Sexiest Women Of England -- Stripped Down!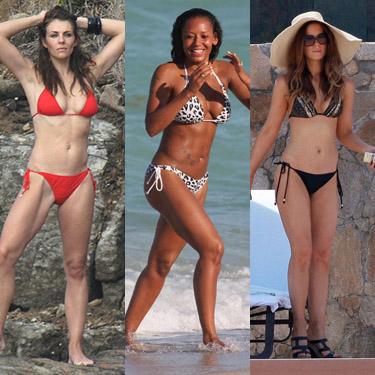 Big Ben, Buckingham Palace and Stonehenge aren't the only attractions that England has to offer -- the Brit country is home to some of the hottest bikini babes in the world! RadarOnline.com is honoring the sexiest supermodels, singers and actresses of England in this special photo feature. Click the next sentence to see the sexiest women of England, stripped down into their barely there bikinis.
Click Here To See The Sexiest Women Of England—Stripped Down!
Article continues below advertisement
Your royal hotness! Kate Middleton has a life that little girls dream of. Not only has the beautiful girl next door scored the world's most sought after bachelor, but she has one of the most flawless figures from the Atlantic to the Pacific.
Click Here To See Kate Middleton's White Hot Bikini Bod
Everyone was shocked when the news broke that Megan Fox was being replaced in the Transformers franchise, but if anyone is hot enough to fill the big screen bombshell's shoes, it is Rosie Huntington-Whiteley. The flawlessly figured Angel gets paid the big bucks to strip down into skimpy bras and panties for Victoria's Secret, so it should come as no surprise that she has one of the hottest bodies on the beach. Jason Statham is one lucky action hero to call this Brit babe his girlfriend!
Click Here To See Rosie Huntington-Whiteley In Her Bikini
Eliza Doolittle is an up-and-coming Brit singer, who is known for her sassy songs, wacky sense of fashion and her smoking hot bikini bod. The Skinny Genes singer has swerving curves, which she isn't afraid to show off in the tiniest of swimsuits.
Click Here To See Eliza Doolittle's Banging Bikini Bod
When it comes to blockbuster babes, Brit stars Keira Knightley and Emma Watson demand some of the highest paychecks in Hollywood. Both the Pirates of the Caribbean star and the Harry Potter hottie have the smarts and the sexiness to sell tickets at the box office.
Article continues below advertisement