PHOTOS: The Sexiest Bilingual Bikini Babes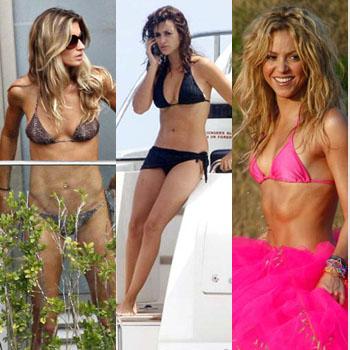 Hard bodied and hot, these fabulously figured stars always steam up the shoreline when they strip down to their skimpy bikinis, but what makes them even sexier is that they speak more than one language! RadarOnline.com is honoring the most banging bilingual bikini bodies on the beach in this special photo feature. Click the next sentence to see the sexiest bilingual bikini babes.
Article continues below advertisement
Gisele Bundchen is a Brazilian bombshell who is married to an American football pro, so it is no surprise that she speaks Portuguese and English, but the hard-bodied star also speaks another south of the border language -- Spanish. Though she may not be able to speak to everyone in the world, her hot body can be universally translated.
Click Here To See Gisele's Gorgeous Bikini Body
Nelly Furtado and Shakira are sexy songbirds who don't just speak two languages, they can sing in them too! Both the Canadian and the Columbian have released albums in both English and Spanish.