VIDEO & PHOTOS: Charlie Sheen Cooks Up WINNING Recipes For Funny Or Die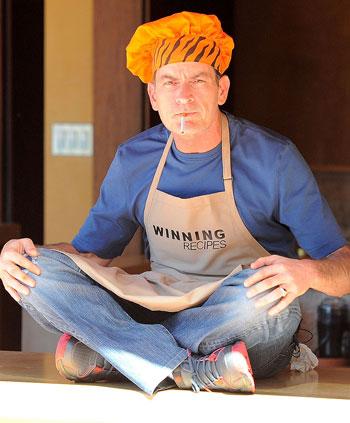 Charlie Sheen isn't wasting any time in trying out new career options. The recently unemployed sitcom actor filmed a bizarre segment for comedy website Funny Or Die on Wednesday, dressed as chef for a cooking show skit, and RadarOnline.com has the photos of his latest mad-cap stunt and the just released video.
Wearing a tiger-striped chef hat and cooking apron with 'Winning Recipes' emblazoned on the front, Sheen posed smoking cigarettes while sat cross-legged on a kitchen counter at his home.
Article continues below advertisement
In other shots he can be seen walking around the make-shift set with the crew drinking what appeared to be coffee.
The shoot is just the latest in a string of random and bizarre moves that the troubled actor has made since being fired from Two And A Half Men on Monday.
On Tuesday night he broadcast the fourth installment of his disturbing web series, Sheen's Korner on USTREAM and took his fans on another manic ride on the crazy train by venting his feelings about being fired from his $2 million-an-episode job and held nothing back in his profanity laced, rambling tirade.
Then on Wednesday morning, Sheen called the Dan Patrick Show in what he said "could be my final interview" in his self-described "media tsunami."
Earlier in the morning he had called into Southern California's K-EARTH 101 radio station to attack his former co-star, Jon Cryer.
During the interview Sheen called Cryer "a troll" and ripped into him, saying: "Jon has not called me. He's a turncoat, a traitor, a troll. Clearly he's a troll. Is it gonna take me calling him a 'traitor, juvenile and scared' for him to get it?"
Article continues below advertisement